FoneDB allows individuals, publishers, and corporations to easily create and publish a wide range of Smartphone databases for business or personal use. FoneDB combines the power of instant access to data with the broad reach of mobile phones.
Compatible with all Microsoft Windows Powered Smartphone devices
Create forms with a flexible set of controls: labels, edit boxes, check boxes, drop-down lists, and buttons
Format data as text, integer, floating point, currency, date, or time
Access data locally, no network connection required
Create read-only or user-modifiable apps
No digital signing required
Creating FoneDB databases is easy. Forms are designed and maintained on a desktop computer. Simply specify the control you need, such as edit box or drop-down list, and define its properties and type of data (e.g. text, integer, date). Records can be viewed or edited (add/change/remove) on either the desktop system or the Smartphone device.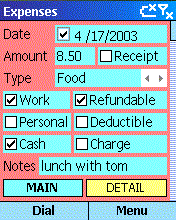 Once created, each FoneDB form is a compact application that can store and retrieve data locally without a network connection. The databases can be read-only or user-modifiable. FoneDB applications can be downloaded or emailed to one or more Smartphones. Data can be transferred between Smartphone devices and between Smartphones and desktop PCs. In addition, data can be shared between a FoneDB application and an ODBC-enabled application on a desktop PC, such as Microsoft Access or Oracle.
Cheers ~ Arne
Related Links : [More Information] Source : [Syware]