CNetX's Pocket SlideShow, the award-winning PowerPoint viewer bundled with the first Orange SPV, is now available to all Smartphone users as a shareware product.
Pocket SlideShow is an extremely compact yet powerful PowerPoint viewer for Smartphone devices. It is specifically tailored to take advantage of the unique capabilities of the Windows Powered Smartphone, thus extending the ability to review presentations anytime / anywhere.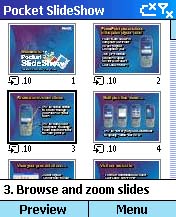 Pocket SlideShow implements an easy-to-use single-handed interaction paradigm, so users can browse quickly and effectively through their PowerPoint presentations on any Smartphone. Four different views are available:
Slide preview (with zoom control and slide scrolling)
Presentation notes
Slide thumbnails
Full screen mode with landscape orientation and animations
A single key is used for switching view, while cursor keys are always available to move forward and backward in the presentation, and the phone numeric-pad can be used to zoom and scroll slides, thus providing a very effective user experience.
Multilanguage support is also included, and menus and screens are automatically adapted to the language selected on the phone. The current release supports English, German, French and Italian, with Spanish to be added soon.
Pocket SlideShow for Smartphone recently won the "Microsoft Mobile Solutions Challange 2003" as best "Business and Office Productivity Application for Smartphone". The award was announced during the Bill Gates keynote at CTIA Wireless / MDC 2003 in New Orleans (March 2003).
For a limited time, the shareware edition of Pocket SlideShow for Smartphones can be purchased for only $9.95.

Further information and a full featured demo version of Pocket SlideShow for Smartphone can be found at CNetX site. The web site also automatically takes care of users browsing with Smartphones and allows "over-the-air" download and installation.
Cheers ~ Arne
Related Links : [More Information] Source : [CNetX]