Do you remember the "Smiles SIP for Pocket PC" I've reported about here some weeks ago? Now another similar application is available - but this time for the Smartphone:
Insert in with a click the smiley into your Messenger applications (MSN, Agile Messenger...) or into your SMS/MMS and E-Mail!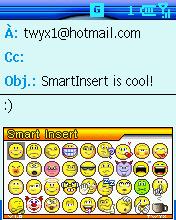 The version can be used without registration (1,60 Euro) which seems to be available in France only (registering it).
Cheers ~ Arne
Related Links : [More information]